Launched 7th September 2022
This research, led by Professor Chris Baker of Goldsmiths, University of London, builds on 2020's Keeping the Faith, looking at the extent to which COVID-19 has changed the nature of partnership working between faith groups and local authorities, and what this means for post-pandemic Britain.
Keeping the Faith 2.0 was launched in Westminster on Wednesday 7th September, with an exciting line-up of speakers including Paul Scully MP, Minister of State for Local Government, Faith and Communities, and a panel discussion chaired by Sir Stephen Timms MP.
Launched 5th November 2020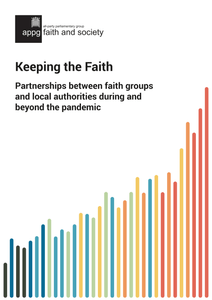 Keeping the Faith was published by the All-Party Parliamentary Group for Faith and Society and the Faiths & Civil Society Unit at Goldsmiths, University of London. The report found that collaboration between local authorities and faith groups dramatically increased during the COVID-19 pandemic.
A survey was sent to all 408 local authorities in the UK and 55 in-depth interviews were conducted with local authority leaders and co-ordinators of faith-based projects across 10 sample local authorities.